Ozzy Osbourne Says Black Sabbath Didn't Like Him "Being Ozzy"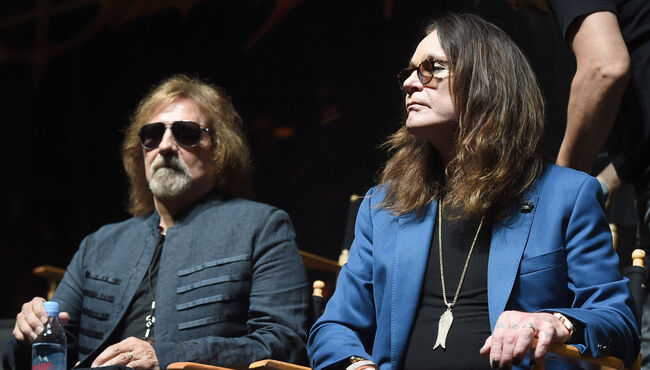 Ozzy Osbourne says his Black Sabbath reunion might have been a success on stage and at the box office, but it wasn't all it was cracked up to be behind the scenes.
While by all accounts Ozzy and his remaining co-founding Black Sabbath bandmates Tony Iommi and Geezer Butler have remained cordial since retiring the band in 2017, The Prince of Darkness says there was baggage leftover from 1979 dismissal from the band, and the ensuing success he had as a solo artist.
"I didn't have a great time. I spent nine or ten years in Sabbath, but I'd been away from them for over 30 years," Osbourne told the Philadelphia Inquirer, regarding his first stint in the band from about 1968 to about 1979. "With them, I'm just a singer. With me, I get to do what I want to do. I was getting bad vibes from them for being Ozzy. I don't know, what the f--k else can I be?"
Of course Ozzy was widely criticized for allowing himself to become a punchline in his The Osbournes TV series, which premiered in 2002.
But as he tells the Inquirer, "It's all entertainment. You got to be mad if you turn down that kind of dough."
It's hard to say for sure, but it's certainly possible that Ozzy is more famous today than he's ever been. He says on his current No More Tours 2 farewell tour, he's regularly seeing generations of fans at the shows.
"I see fathers and sons and grandsons," the Ozzman sayeth. "I got a thank-you card about three days ago from a 70-something-year-old woman saying, 'You might not believe me but I love going to your concerts with my son.' It makes you feel weird. I've replaced Bing Crosby and all them, I have."
Ozzy's own grandchildren are part of the reason he's been tying up loose ends in his career in recent years, retiring Black Sabbath and announcing that he's finished with large-scale tours after 2020.
"I've got grandchildren that I want to spend time with," he explained. "I never spent that much time with my own kids."
The singer has emphasized repeatedly that he'll probably continue performing once his tour is over just for the love of it. But doing a world tour again is off the table.
Get all of Ozzy Osbourne's No More Tours 2 tour dates here.
Photo: Getty Images